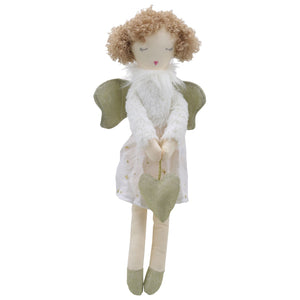 Evie doll by Wilberry is a beautifully cute doll with golden wings. She has curly hair, fur bodice, and white skirt embroidered with little gold stars. She has a sweet embroidered face and is holding a gold heart.
All ready to start her new adventure and be loved by its new owner.
Key Features 

- Great toy for play and imagination
- High quality materials and construction
- Suitable for children aged 12 months and over
Product Dimensions
Length - 42cm
Colour - Multi
With all Wilberry toys you can download and print off a birth certificate, filling in their name, place of birth, who the belong to and their birthday making them extra special! (To do this, follow the instructions on the label).