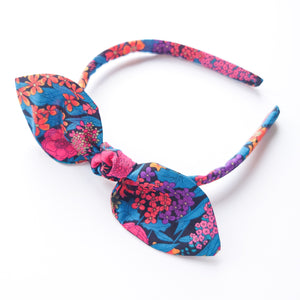 A stylish Alice band made in Liberty's Ciara C Tana Lawn fabric.
Liberty Classic Tana Lawn 'Ciara' is a dense botanical  design, a vibrant floral print in hot pinks, oranges and teal, with a black background to make them really pop- a new and exciting addition to the Classic Tana collection!
Maarching knotted headbands also available. 
With the bow, this Alice band make the perfect accessory.
Size of the bow is approximately 14cm.